[Model]Jumpsuit:□160, □165, □170, □175, □180, □185
[Executive standard] EN14126:2003、FDA Regulation Number:878.4040
[manufacturer] Shandong Zhushi Pharmaceutical Group Co., Ltd
[Shelf Life] 3 years after sterilization with ethylene oxide.
[contact information] +86 132 5613 3668
The company has passed ISO 13485:2016 and ISO 9001:2015 certification.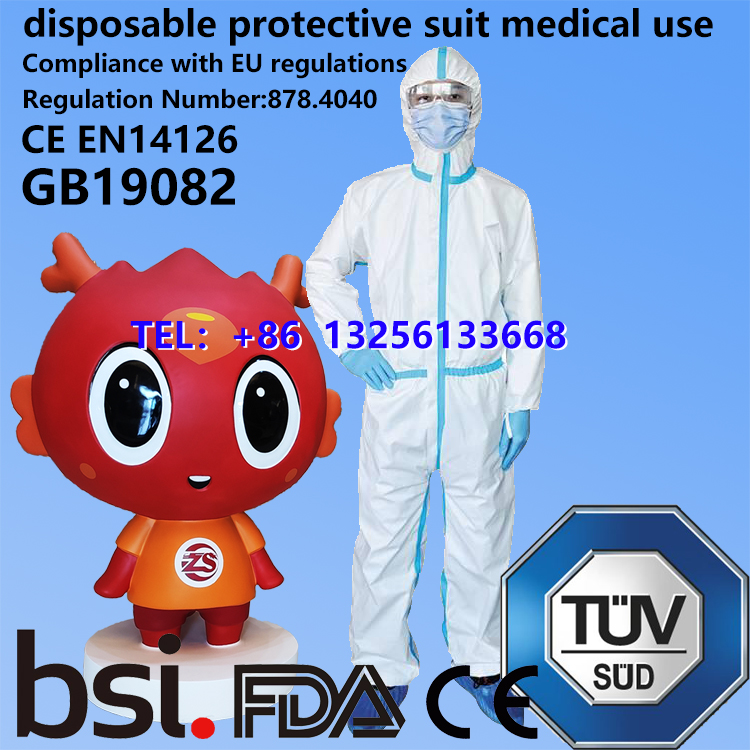 [Product Name]Disposable medical protective sult
[Model]Jumpsuit;160165口170口175口180185
[Executive standard]EN14126:2003
[Structure Composltion]he product is made of nonwoven fabric.
[Product performance]
1、The hydrostatic pressure in the key parts of the gown shall not be lower than 1.67kpa (17cm H₂O).
2、The moisture permeability of gown should not be less than 2500g/(m²*d).
3、The resistance of gown to synthetic blood penetration should not be lower than 1.75kPa.
4、The water level on the outer side of gown shall not be lower than grade 3.
5、The elongation at break of key parts of gown should not be less than 15%.
6、The filtration efficiency of non-oil particles in key parts of gown and joints should not be less
than 70%.
7、The charge of gown should not be greater than 0.6μC/pieces.
8、The electrostatic attenuation time of gown material shall not exceed 0.5 seconds.
9、Ethylene oxide residues: no more than 10μg/g.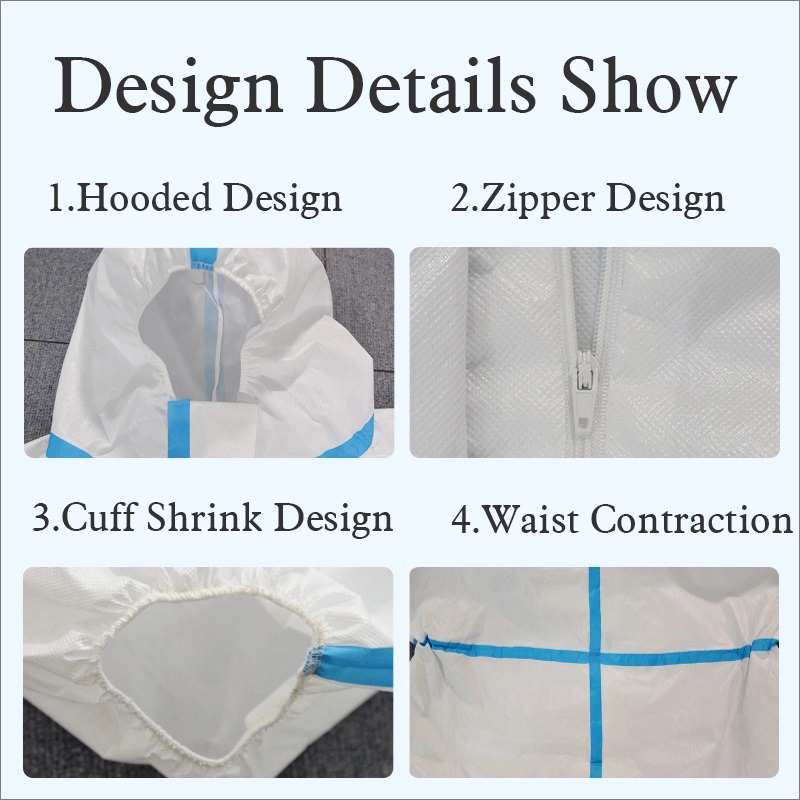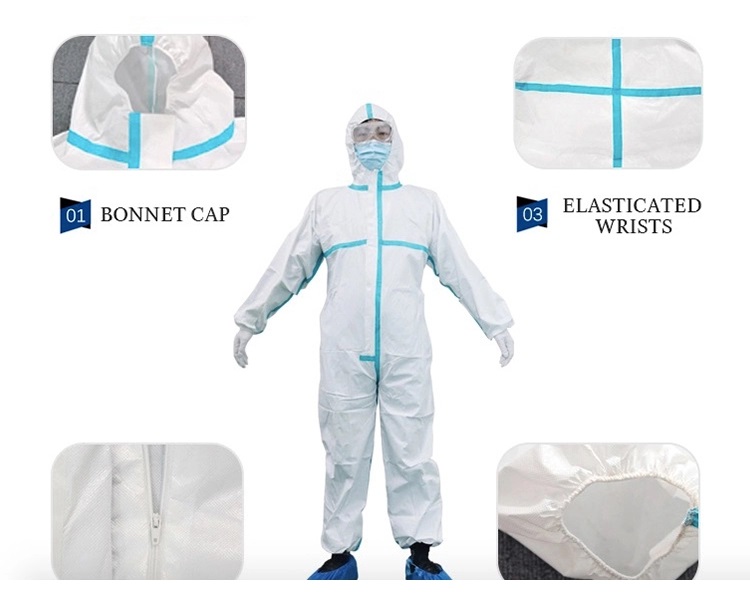 [Intended Use]
It is used to protect the patient from infectious agents that are potentially spread by the healthcare professional.
[Usage]
Unfold the protective suit, into legs from the zipper opening, wearing jacket, hands out from the sleeve,wearing the headgear, pull up zipper.
[Precautions]
1.The product is sterile,disposable product,valid for three years.
2.The product is limited to disposable use, should be used immediately after opening the package, after use should be incineration.
3. If found any part damaged before wearing, do not use.
4.Should avoid long time contact with chemicals.
[Contraindications] It is forbidden for those who are allergic to this product.
[Transportation and Storage]
The transportation means should be clean and isolated from fire source. The product should be stored in a dry,cool and clean room, away from direct sunlight, without corrosive gases and with good ventilation. It is strictly prohibited to store with toxic or hazardous substances.
[Sterilization Method]Sterilized with ethylene oxide.
[Shelf Life]3 years after sterilization with ethylene oxide.
[Manufacture Date] See packaging.
EC REP:MedNet EC-REP GmbH
ADD:Borkstrasse 10,48163 Münster,Germany
[manufacturer] :Shandong Zhushi Pharmaceutical Group Co.,Ltd
ADD:No.6 Shande Road,Shan County,Heze City,Shandong,China 274300
Tel:+86-13256133668
Email:958105582@qq.com
[Standard] GB 19082-2009 and EN14126:2003
[REGISTRATION NO]:LUXIEZHUZHUN20202140108
[PRODUCHON LICENSE NO]:LUSHIYAOJIANXIESHENGCHANXU20140053HAO
The company has passed ISO 13485:2016 and ISO 9001:2015 certification.
Enjoin:Please read the instructions carefully and use them in accordance with the instructions or purchase
and use under the guidance of a physician.