[Product name] Medical examination gloves
[Model specification] Nitrile XS S M L XL Piping No powder
CE EN 455
SGS Ref.NO:TAOHG2002505601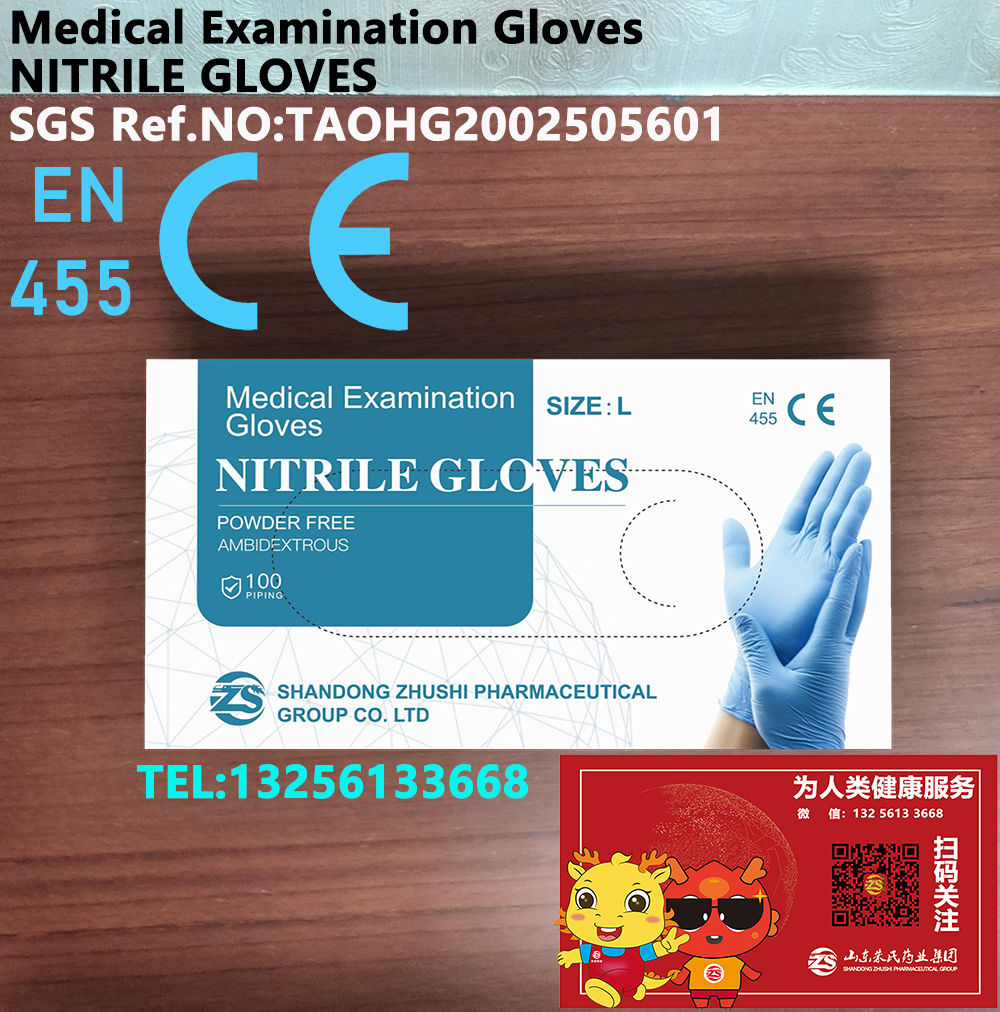 [Product name] Medical examination gloves [Model specification] Nitrile XS S M L XL Piping No powder
[Product description] Usually made of Polyvinyl chloride (PVC), rubber and other materials. Sufficient strength and
barrier properties. Non-sterile supply, disposable.
[Intended use] It is used to put on doctors' hands for examination or touch examination of patients' condition.
[Usage] Before wearing gloves, remove all ornaments on hands and trim and smooth nails. According to the general
standard of surgical disinfection, the hand parts are clear Clean, disinfect and dry. Wear gloves suitable for individual hand size.
Wet hands will make it more difficult to wear.
【Matters needing attention】
1. When wearing gloves, do not wear rings or other ornaments, and keep nails trimmed and smooth.
2. Please choose gloves suitable for your own hand size.
3. Do not use gloves in case of contamination caused by packaging damage.
4. This product is for one-time use only, please destroy it after use.
5. Oil, acid, alkali, copper, manganese and other metals and chemical drugs harmful to rubber are strictly prohibited;
6. Use with caution if allergic to polyethylene products.
7. too high temperature will be very destructive to plastic gloves.
[Storage conditions] Shade, seal and store in a dry place. [Preparation No.] Luhe no. 20200171
[Product Technical Requirement No.] Luhe no. 20200171 [Production record certificate No.] Luhe Food Pharmaceutical
Supervisory apparatus Production Preparation No. 20160003
[Name of archivist/manufacturer/after-sales Service agency] Shandong ZHUSHI Pharmaceutical Group Co., LTD
[Registered address] Fanlou Road south, Development Zone, Shan County
[Production address] Shandong Shanxian County Economic and Technological Development Zone 6 Shan DE Road
Shanxian County Economic and Technological Development Zone, Shandong Province, China
[Production telephone] +86 13256133668
[Compilation Date] June 2020
[Date of production] See outer
[Term of use] two years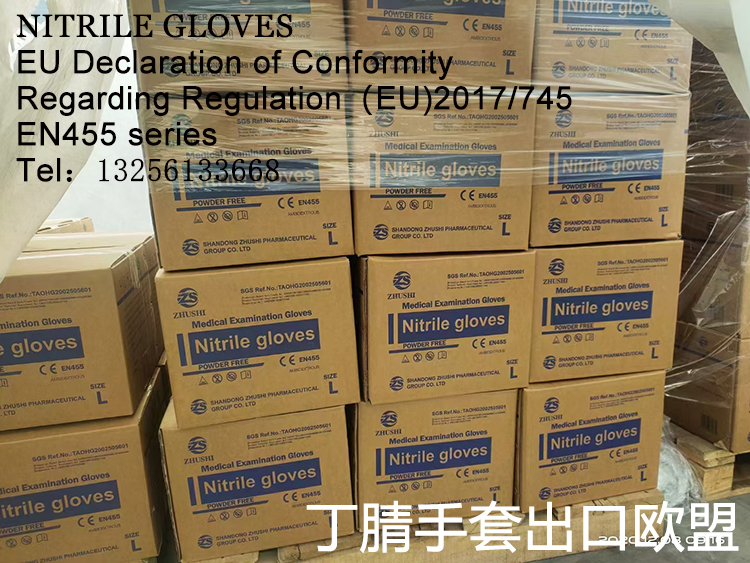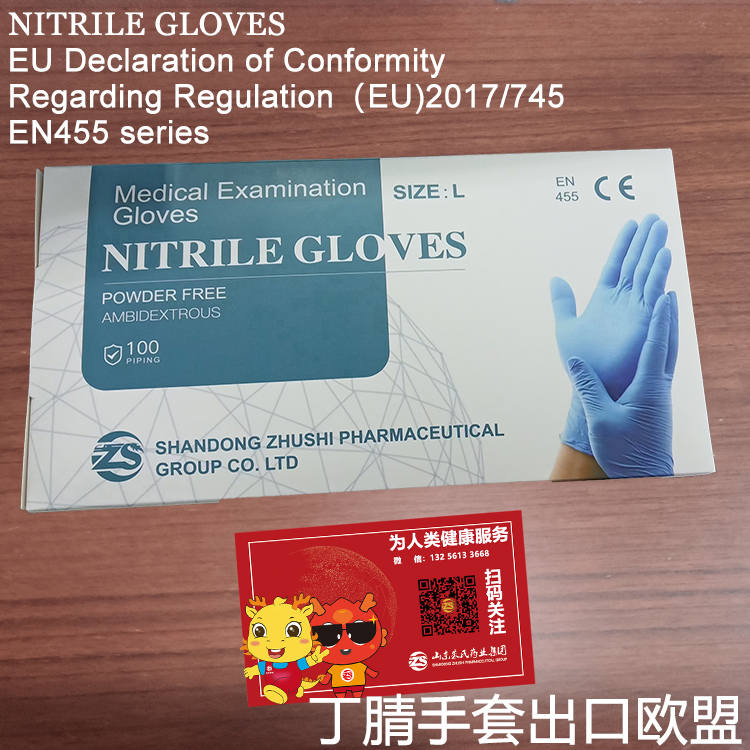 Affected by the novel coronavirus pneumonia, medical supplies such as respirators are in short supply. The group has added a number of polymer purification workshops, and the industrial chain is complete, realizing one-stop service from packaging design, printing, material production, logistics, etc. The daily output of primary medical surgical Masks and disposable medical Masks is 6 million, that of medical protective clothing is 200000, that of medical disposable isolation clothing is 500000, that of medical protective Masks and kn95 is 1 million, and that of medical inspection gloves is 10 million. Other free hand gel, 75% alcohol disinfectant, 84 disinfectant, forehead temperature Gun, goggles, disinfectant wipes, protective Mask and other anti epidemic materials can be customized processing. The products meet the national standard / European standard / American Standard and other common standards all over the world. The products have obtained BSI certificate, real CE certificate, FDA record, EAC exemption letter from Russia, mdel record of Canadian drug administration, TGA certification of Australia, ISO 13485 and ISO9001 certificate, SGS / TUV inspection report, import and export sales certificate of the people's Republic of China, and medical device self-service sales certificate of import and Export Chamber of Commerce, etc. The products are sold at home and abroad and exported to all over the world for a long time.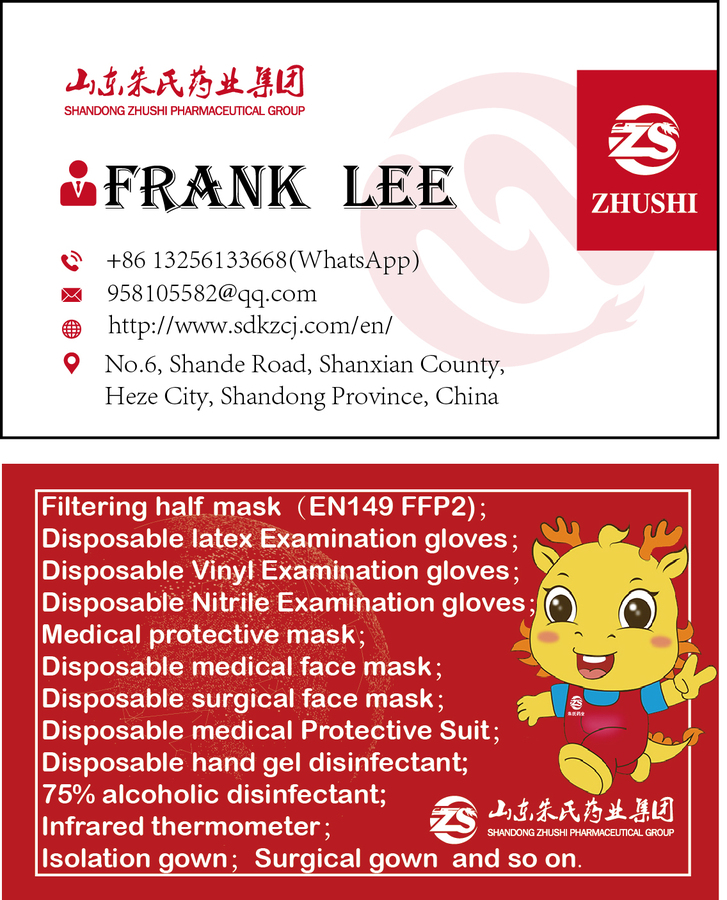 Shandong Zhushi Pharmaceutical Group is a large-scale comprehensive enterprise group integrating medical devices, cosmetics,health food, biological reagent new drug R & D, production and sales, polymer material research and development, real estate development, logistics distribution, packaging and printing, and enterprise training. The group was established in December 2003, with a total registered capital of 150 million yuan. It has more than 2000 employees and an annual output value of nearly 500 million yuan.

The group has 12 subsidiaries, involving dozens of fields such as medicine, medical equipment, cosmetics, health food, printing, real estate, enterprise consulting management training, etc. The company adheres to the road of scientific and technological innovation and relies on the high-tech products of intellectual property rights established by us to ensure the sustainable development of the company. The company attaches great importance to the market-oriented and has the research and development ability of cutting-edge technology. The company has scientific research institutions and personnel engaged in innovative research and development.
Filtering half mask(EN149 FFP2);
Medical examination glove;
Disposable latex Examination gloves;
Disposable Vinyl Examination gloves;
Disposable Nitrile Examination gloves;
Medical protective mask;
Disposable medical face mask;
Disposable surgical face mask;
Disposable medical Protective Suit;
hand gel disinfectant;
75% alcoholic disinfectant;
Infrared thermometer;
Isolation gown;
Surgical gown;
Medical isolation mask;
Medical isolation eye mask;
Medical isolation shoes;
Medical isolation shoe cover;
Medical cap;
75% alcohol disinfectant;
Antibacterial hand sanitizer;
Disposable alcohol disinfectant wipes;
84 disinfectant;
Disposable virus sampling tube.
and so on.
WhatsApp:+86 13256133668