Product Name: Non-medical disposable nitrile gloves
Model:ZS-N
Standard:EN ISO374-1:2016+A1:2018/Type C
CE 2575
Performance Parameter:
Nitrile glove meets the requirement leak test: there shall be no air bubbles in air leak test under air pressure of 2.5kPa.
Nitrile glove meets the requirement leak test: there shall be no water leaks in water leak test.
The nitrile glove provides a permeation performance at least level 2 against Sodium Hydroxide 40%.
The nitrile glove were tested according to clause 5.3 degradation: DR:+3.5%
Scope Of Use: widely used in cleaning labor, car beauty, pet cleaning, industrial production, food catering, experimental analysis and other scenarios.
Made in china
EN ISO 374-1:2016+A1:2018/TYPE C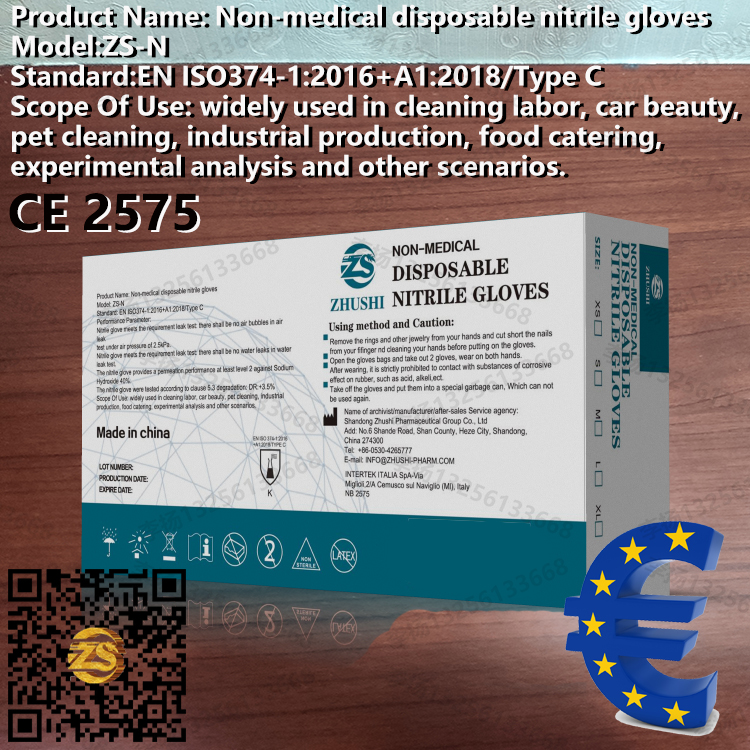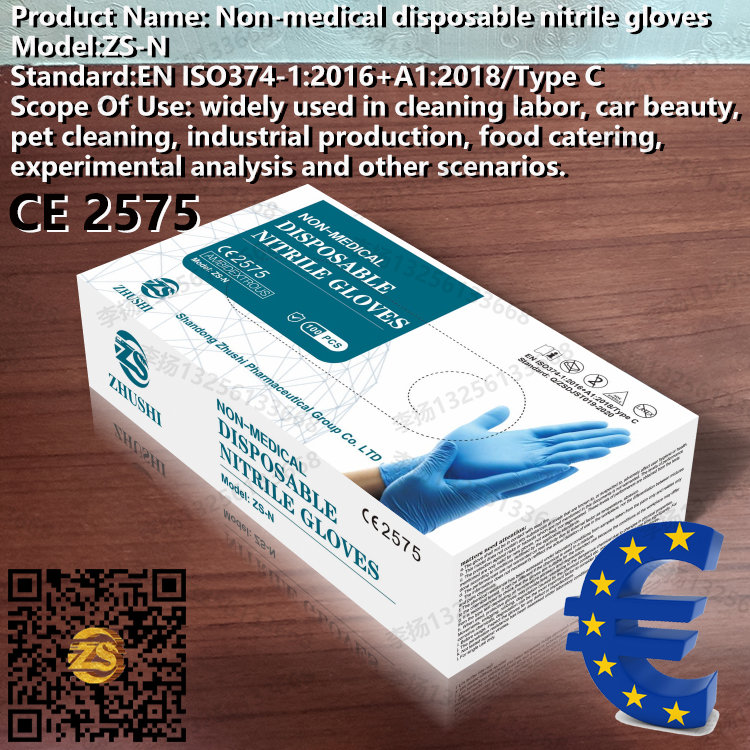 Using method and Caution:
Remove the rings and other jewelry from your hands and cut short the nails
from your fifinger nd cleaning your hands before putting on the gloves.
Open the gloves bags and take out 2 gloves, wear on both hands.
After wearing, it is strictly prohibited to contact with substances of corrosive
effect on rubber, such as acid, alkeli,ect.
Take off the gloves and put them into a special garbage can, Which can not be used again.
Name of archivist/manufacturerlafter-sales Service agency:
Shandong Zhushi Pharmaceutical Group Co.,Ltd
Add:Nd.6 Shande Road,Shan County, Heze City, Shandong,
China 274300
Tel: +86-0530-4265777
E-mail: INFO@ZHUSHI-PHARM.COM
INTERTEK ITALIA SpA-Via
Miglioli,2/A Cemusco sul Naviglio (MI), Italy NB 2575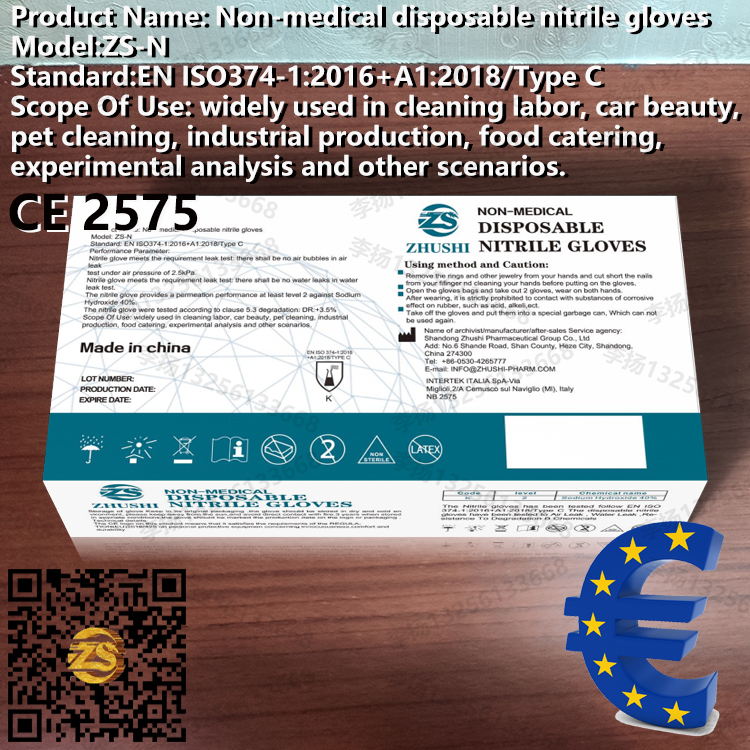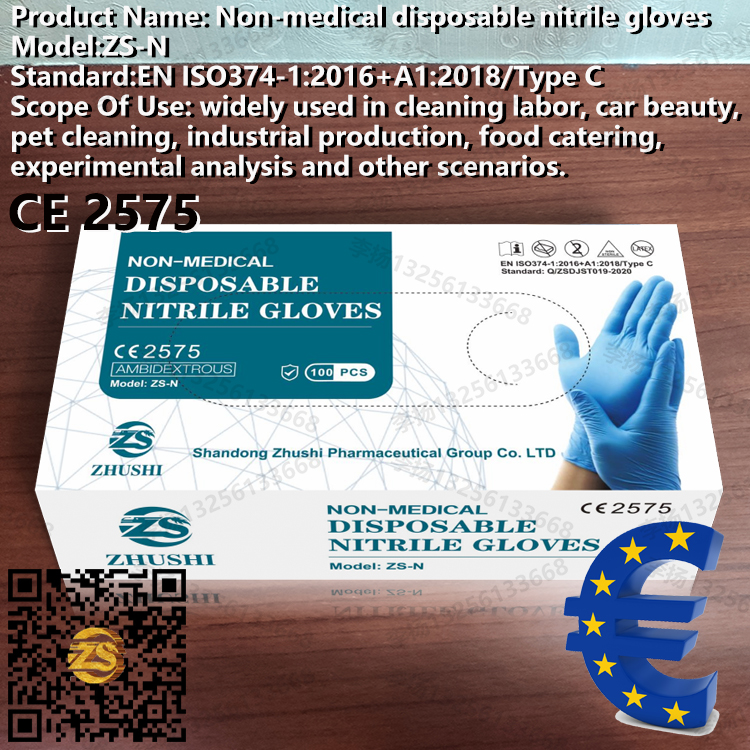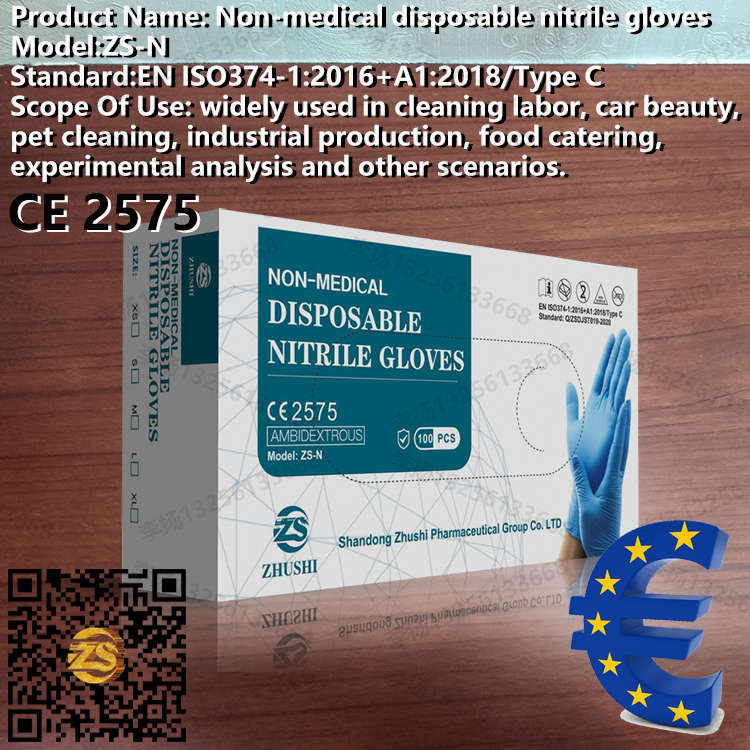 Storage of glove Keep in its original packaging ,the glove should be stored in dry and cold en vironment, please keep away from the sun,and avoid direct contact with fire.3 years when stored in appriate conditions,the glove should be marked the production date on the logo or packaging.
Technical details
The CE logo on this product means that it satisfies the requiements of the REGULA-TION(EU)2016/425 on personal protective equipmen concerning innocuousness,comfort and Durability
The Nitrile gloves has been tested follow EN ISO 374-1:2016+A1:2018/Type C The disposable nitrile gloves have been tested to Air Leak , Water Leak,Re-sistance To Degradation B Chemicals
matters need attention:
a. The glove shall not be in contact with read fire.
b. This model does not contain any substances at levels that are known to, or suspected to, adversely affect user hygiene or health.
c.The protection agianst risks or hazards which are not mentioned in this documents is not warranted. The levels of performance
mentioned are only valid for new gloves, not washed, nor regenerated. These levels of performance are obtained from the tests done according to conditions defifined by the applicable standards.
d. The performances are not warranted on real activity due to external factor as temperature, abrasion.
e. The information does not necessarily reflflect the actual duration of use in the workplace,nor the differentiation between mixtures and pure chemicals.
f. The chemical resistance has been assessed under laboratory conditions from samples taken from the paim only and relates only to the chemical tested. It can be different if the chemical is used In a mixture.
g. It is recommended to check that the gloves are suitable for the intended use because the conditions at the workplace may differ from the type test depending on temperature abrasion and degradation.
h. When used,protective gloves may provide less resistance to the dangerous chemical due to changes in physical properties.Movements,snagging,rubbing,degradation caused by the chemical contact etc. may reduce the actual use time significantiy. For corrosive chemicals,degradation can be the most important factor to consider in selection of chemical resistant gloves.
i. Before usage,inspect the gloves for any defect or imperfections.
j.The penetration resistance has been assessed under laboratory conditions and relates only to the tested specimen.
k. Not tested against viruses.
I. For single use only.