[Product name] Sterile Hypodermic Syringes with needle For Single Use
[Specification] Syringes 5mL
[Needle] 0.6x25mm、0.6x32mm、0.7x32mm、0.8x30mm
[Executive standard] BS EN ISO 7886-1:2018
The company has passed ISO 13485:2016 and ISO 9001:2015 certification.
WhatsApp/Tel:+86 13256133668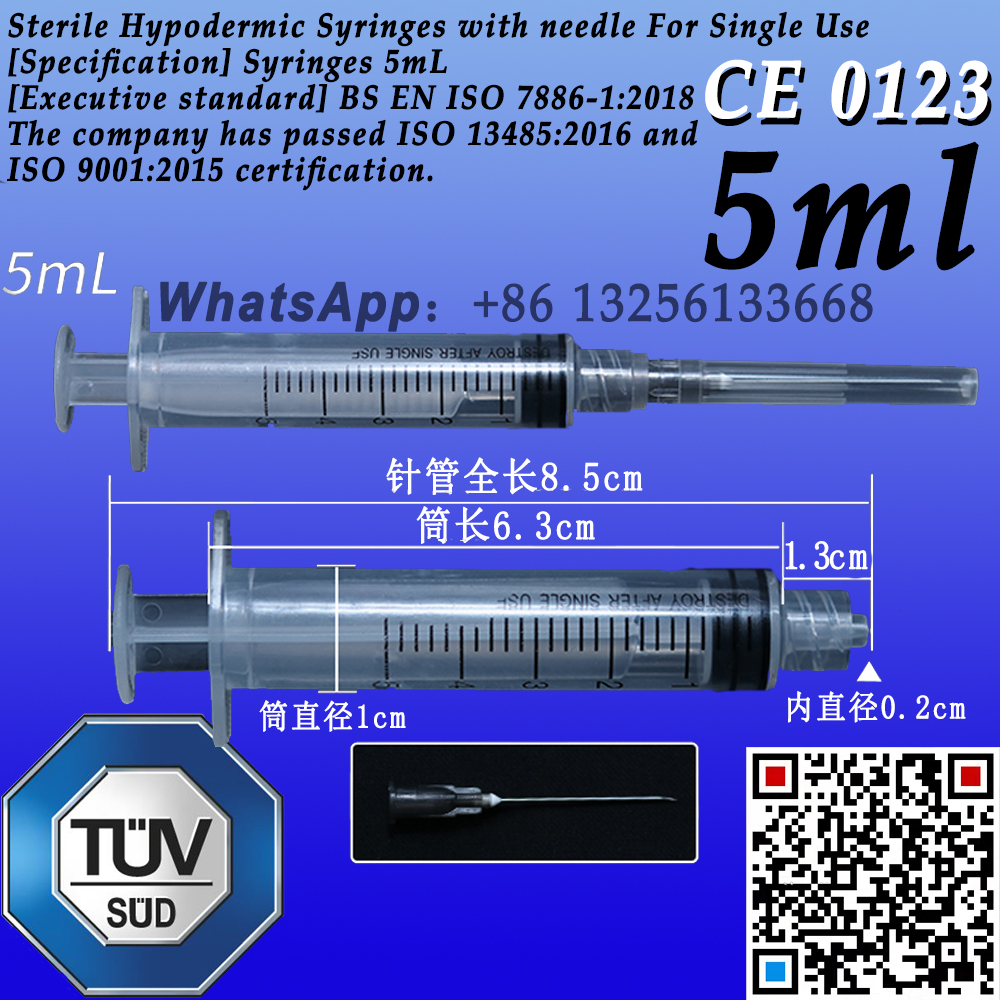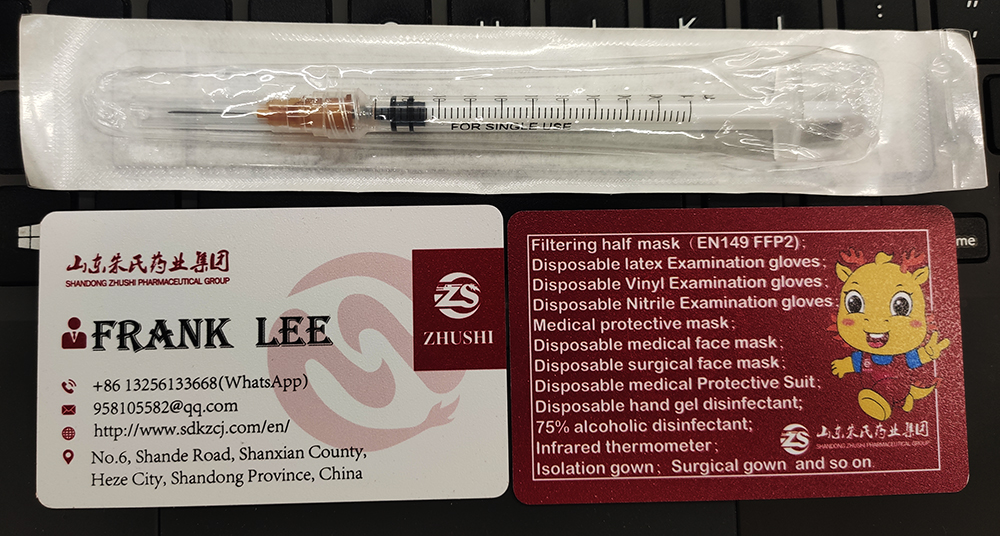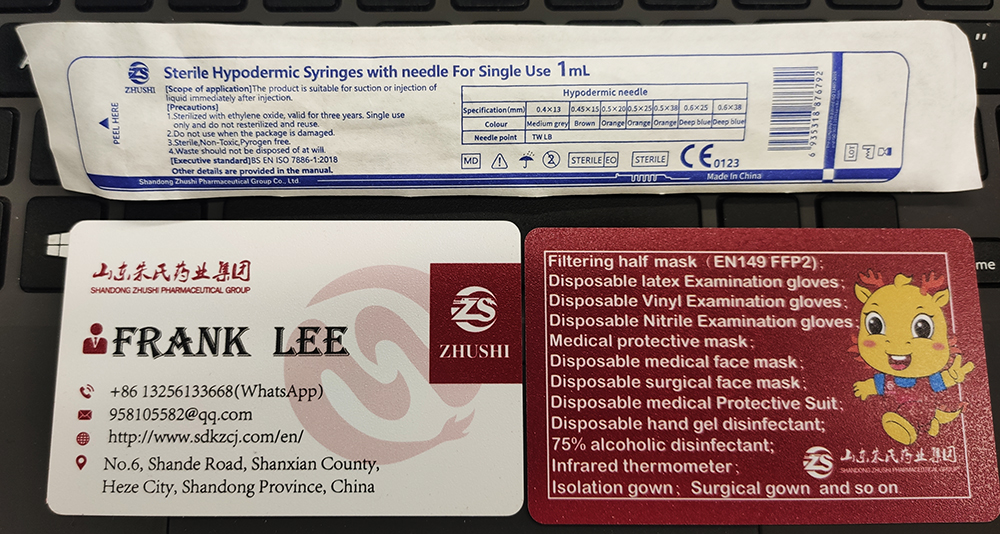 [Product name) Sterile Hypodermic Syringes with needle For Single Use
[Specification] Syringes 5mL
[Needle] 0.6x25mm、0.6x32mm、0.7x32mm、0.8x30mm
[Executive standard] BS EN ISO 7886-1:2018
[Structure Composition]
The product Is made up of core rod, rubber plug, jacket, needle;sterlllzed wlth ethylene oxide, pyrogen free. Jacket,
core rod and needle seat material is medical grade polypropylene, sheathed material Is medical polyethylene,rubber
plug material is isopentyl synthetic rubber, needle pipe material is medical stainless steel, adhesive material is epoxy
resin.The lubricant material is dimethyl siloxane.
[Scope of application]
The product is suitable for suction or Injection of liquid Immediately after Injection.
[Instructions for installation and use]
1.Installation instruction: none.
2.Direction for use:
2.1 Tear open the single bag and take out the syringe.
2.2 Remove the injection needle cover, pull the core rod back and forth, tighten the Injection needle, and then pull inthe liquid.
2.3 Injection needle upward,slowly up the core bar to remove air.
2.4 Subcutaneous or intramuscular injection or blood withdrawal.
[Precautions]
1.This product is sterilized with ethylene oxide. The product is sterile and pyrogen free.
2This product is single use and destroyed after use.
3.The small package is damaged, the protective case falls off or the foreign body inside is forbidden to use.
4.The sterility of the product is valid for 3 years and the use of the product is prohibited after expiration.
5.Products must be used in accordance wlth the relevant operating regulations and regulations of the medical deparment,
limited to trained doctors or paramedics. In the process of use, the operator and the user should deal with the abnormal
condition according to the medical standard in time.
6.If any quality questions are found during use, please stop using them immediately and notify us promptly.
7.After the use of this product according to the local medical regulations on the requlrements of garbage disposal.
Waste treatment should prevent needle stab Injury, cross-infectilon.
[Contraindications]No
[Transportation and Storage]The transportation means should be clean and isolated from fire source. The product
should be stored in a dry, cool and clean room, away from direct sunlight, without corrosive gases and with good ventilation,away from the storage of chlorinated preparations. It is strictly rohibited to store with toxic or hazardous substances.
[Sterilization Method]Sterilized with ethylene oxide.
[Shelt life]3 years after sterilization with ethylene oxide.
[manufacturer] :Shandong Zhushi Pharmaceutical Group Co., Ltd.,
ADD: No.6, Shande Road, Shanxian County, Heze City, Shandong Province, China
Tel:+86 13256133668
EC REP:Medwheat Tech Service GmbH
ADD:Max-Plank-Straβe,485609 Aschheim b. München,GERMANY
The company has passed ISO 13485:2016 and ISO 9001:2015 certification.
Enjoin:Please read the instructions carefully and use them in accordance with the instructions or purchase and use under the guidance of aphsician.