Children's mask
3ply with Earloop;Non-Sterile
Size:14.5*9.5cm
Disposable Medical face mask
EN14683:2019 Type IIR
WhatsApp:+86 13256133668
MEETS EN14683:2019 REQUIREMENTS FOR MEDICAL MASKS BFE≥98%
The company has passed ISO13485:2016 certfication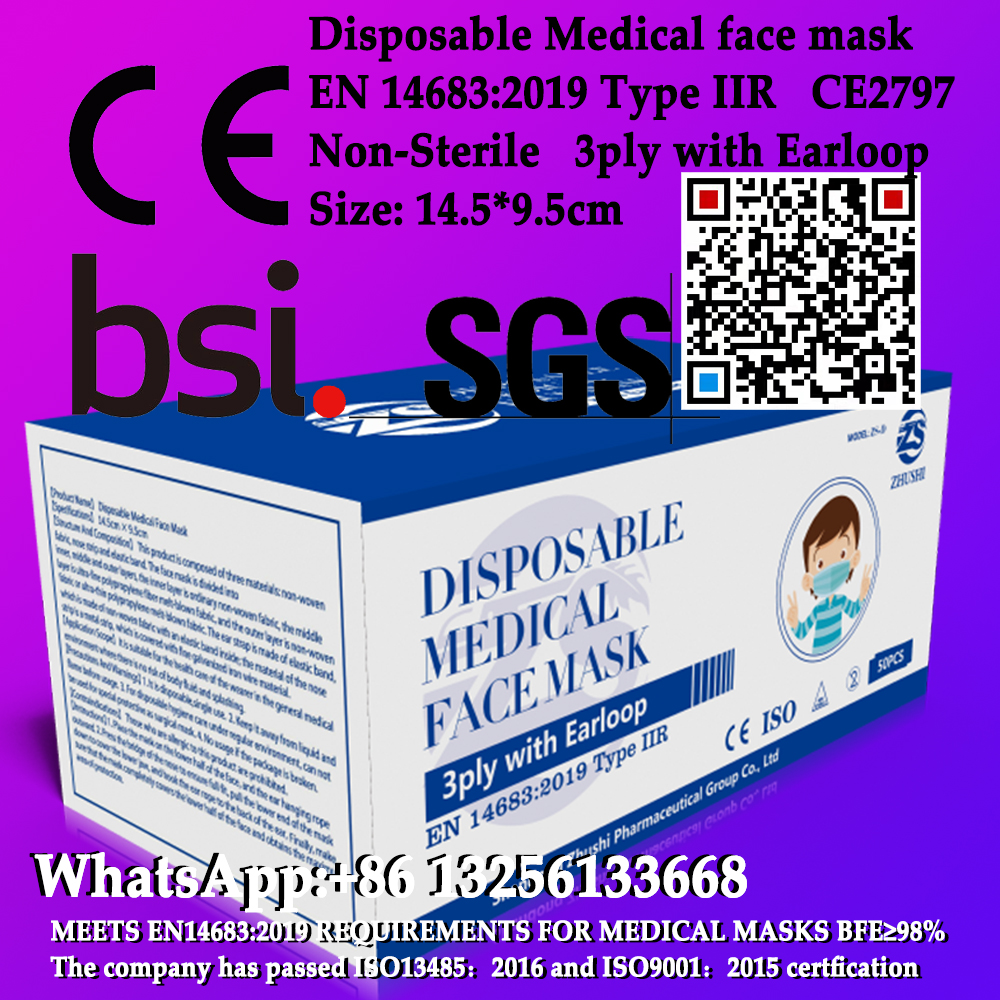 我集团日产600万只一次性医用外科口罩,口罩符合国标/欧标/美标等全世界常用标准。欧洲标准EN14683:2019 Type IIR口罩我们有货,有资质。产品取得BSI证书,真正的CE证书,FDA备案,取得俄罗斯EAC豁免函,加拿大药监局MDEL备案,澳大利亚TGA认证,另外取得ISO13485,ISO9001证书,并且有SGS/TUV检验报告,进出口商会医疗器械自营销售证书等。产品行销海内外,长期出口世界各地。
Our group has a daily output of 6 million disposable surgical masks, which meet the national standard / European standard / American Standard and other commonly used standards all over the world. We have the European standard en14683: 2019 type IIR mask, and we have the qualification. The products have obtained BSI certificate, real CE certificate, FDA record, EAC exemption letter from Russia, mdel record of Canadian drug administration, TGA certification of Australia, ISO 13485 and ISO9001 certificate, SGS / TUV inspection report, self-service sales certificate of medical devices of import and Export Chamber of Commerce, etc. The products are sold at home and abroad and exported to all over the world for a long time.
[product name] disposable medical mask
[model] non-sterile type
[Specification] 17.5cm × 9.5cm, 17.5cm × 9.0CM, 17.0cm × 9.0CM, 14.5cm × 9.5cm, 12.5cm × 9.0CM, 12.0cm × 7.0cm
[structure composition] this product is made up of three materials, non-woven fabric, nose strip and rubber band. The mask body is divided into three layers: inner, middle and outer, the inner layer is ordinary non-woven fabric, the middle layer is ultra-fine polypropylene fiber melt jet cloth, and the outer layer is non-woven. The mask belt is made of rubber band, which is made of non-woven cloth with rubber band; the material of nose strip is metal strip, and it is made of plastic wrapped with fine galvanized iron wire.
[performance index]The breaking strength of each mask belt and the connection point of the mask body shall not be less than 10N;
The filtration efficiency of mask should not be less than 95%;
The ventilation resistance of gas exchange on both sides of mask shall not be greater than 49pa/cm;
Sterile mask is sterilized by ethylene oxide, and the residual amount of ethylene oxide shall not exceed 10 μ g / g;
[scope of application] for clinical personnel to wear during non-invasive operation, covering the mouth, nose and jaw of users, and provide a certain physical barrier for preventing the direct transmission of pathogens, microorganisms and particles.
[precautions]
1. before use, check whether the package is intact, the package is damaged and it is forbidden to use;
2. after the mask is wet, it should be replaced in time, and it is recommended to wear it once for 4 hours;
3. before wearing masks into the work area, tightness inspection shall be conducted. If not, please replace them;
4. it is used for disposable health care in general environment, and it is not used as special protection for surgical operation;
5. the product shall be used as soon as possible after opening;
6. this product is disposable, and it shall be treated according to the relevant provisions of medical waste after use.
Contraindications are forbidden for people with material allergy.
[supply method] sterilize with ethylene oxide gas and provide it aseptic.
[instructions for use]
1. open the product packaging, take out the mask, put one end of nose clip upward, one side facing outward with the edge of the package, and gently pull the ear strap to hang the mask on both ears, so that the hand should not contact the inside of the mask.
2. press the nose clamp gently to make it fit with the nose beam, and then press and hold the nose clamp. Pull the lower end of the mask down to the jaw so that the folded edge is fully extended.
3. arrange the wearing effect of the mask so that the mask can cover the nose, mouth and jaw of the user and ensure the tightness of the mask.
SUNGO Europe B.V. VAT:NL857821659B01
Add: Olympisch Stadion 24, 1076DE Amsterdam, Netherlands Contact: SUNGO Secretary
Manufacturer: Shandong Zhushi Pharmaceutical Group Co., Ltd
Add:No.6 Shande Road,Shan County, Heze City, Shandong, China 274300
TEL:+86 13256133668
CE证书
FDA美国药监局备案
俄罗斯EAC豁免函
俄罗斯GOST自愿性证书
加拿大药监局备案MDEL证书

澳大利亚TGA认证
ISO9001证书
ISO 13485证书
SGS检验报告
TUV检验报告
Shandong Zhushi Pharmaceutical Group Co., Ltd. established in 2003, and located in shanxian, Heze city, Shandong province, China. With a registered capital of 500 million yuan, more than 5000 registered employees, and the company has 2 modern science and health industrial parks, the total area about 380000m², annual output value of 3 billion yuan.
The company adopted almost demanding standards to create perfect products and has passed the 13485 certification, CE certification and FDA certification issued by the British authority. Establish the quality management system according to ISO9001 and ISO13485 standards, strictly regulate the production process, use CP, MSA, 5S and other management concepts to strengthen the control of product quality, at the same time have the import and export license, electronic port and entry and exit inspection and quarantine application procedures for enterprises.
After more than ten years of vigorous development, the company has formed a collection of production and sales of medical devices, disinfection and sanitary products, polymers, cosmetics, health foods, research and development of biological reagents, corporate management consulting and training, real estate economy, pharmaceutical transportation and pharmaceutical printing etc. A diversified modern Chinese medicine industry cluster with a core of the pharmaceutical industry.
We are sincerely looking forward to cooperating with more overseas customer based on mutual benefits and long term potential.