[Product Name] Disposable Surgical Gown(Instruction Manual)
[Executive standard]EN13795-1:2019
BSI certification, CE No. 2797, in line with EU standards
[Shelf Life] 2 years after sterilization with ethylene oxide.
The company has passed ISO 13485:2016 and ISO 9001:2015certification.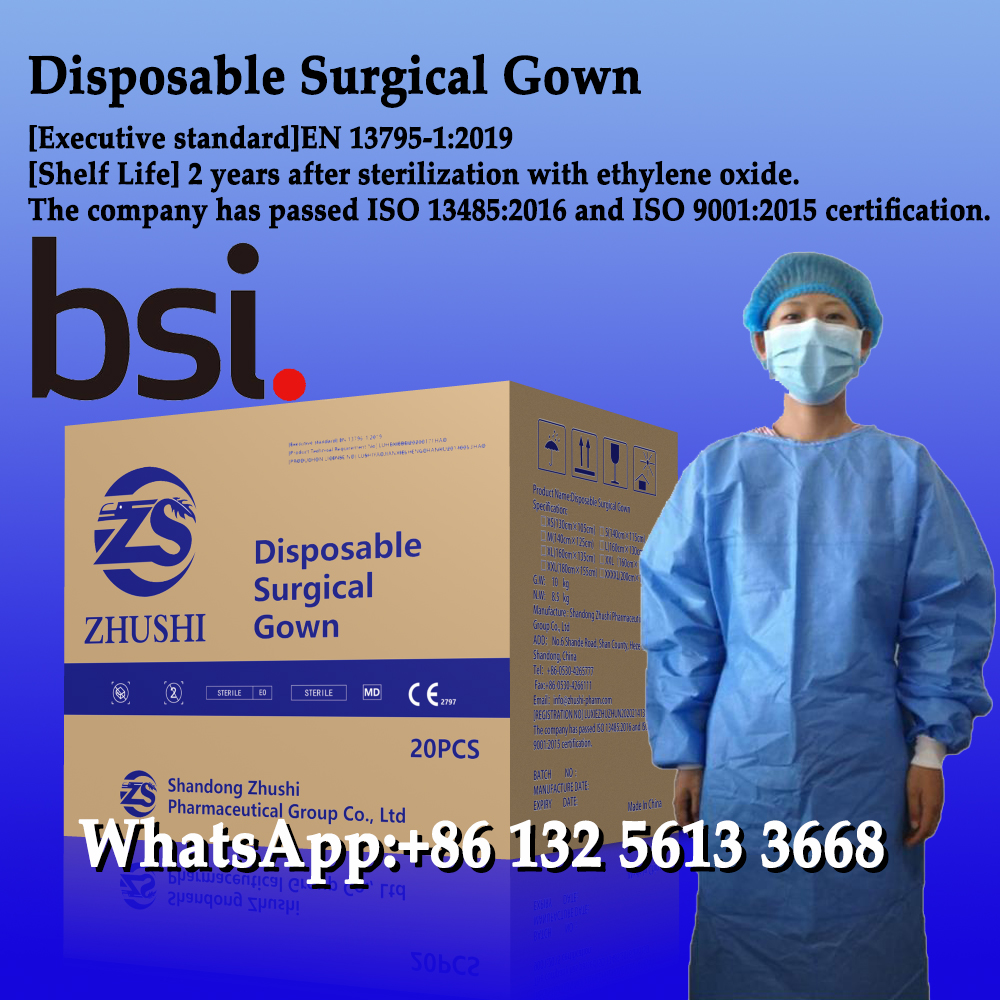 [Product Name] Disposable Surgical Gown
[Specification] 口XS(130cmx105cm) ;口S(140cmx115cm) ;口M(140cmx125cm);口L(160cmx130cm) ;口XL(160cmx135cm);口XXL(160cmx145cm);口XXXL(180cmx155cm);口XXXXL(200cmx165cm)
[Executive standard]EN13795-1:2019
[Structure Composition] It is made of SMS non-woven fabric and consists of neckline,body,sleeve and tie.The back is fully opened,the neck and waist are laced,the cuffs are made of polyester elastic closure by sewing,and the rest are made of heat bonding.The product is a standard performance operating garment supplied in a sterile form.
The appearance

should be clean and tidy

,

without

damage

,

colored patches

,

stains and foreign

bodies

;

disposable surgical gown should be flat and folded neatly;

The sizeof the product should meet the product speci ications with an error of±5%

Resistance to microbial penetration-dry state

Resistance to microbial penetration-wet state

Cleanliness-microorganisms

Cleanliness-particulate matter

Log

10

≤4.0(falling floc tally)

Bursting Strength-dry state

Bur sing Strength-wet state

Breaking strength-dry state

Breaking strength-wet state

Ethylene oxide residual quantity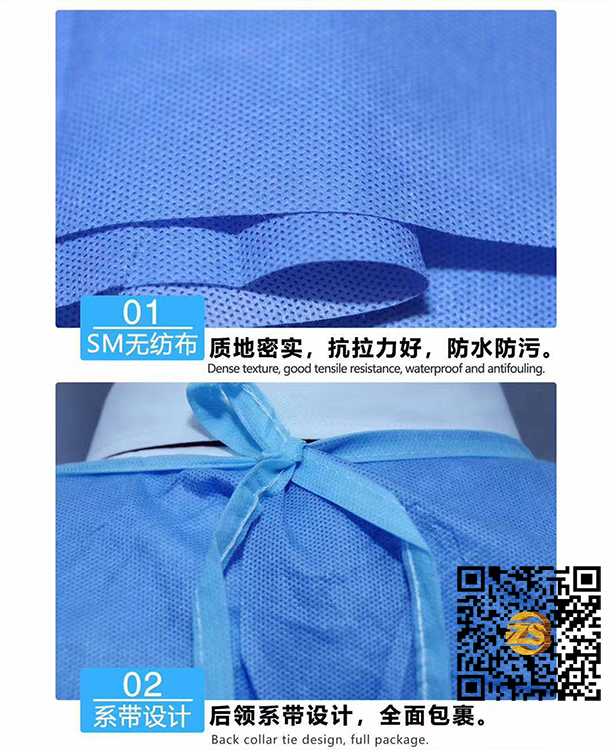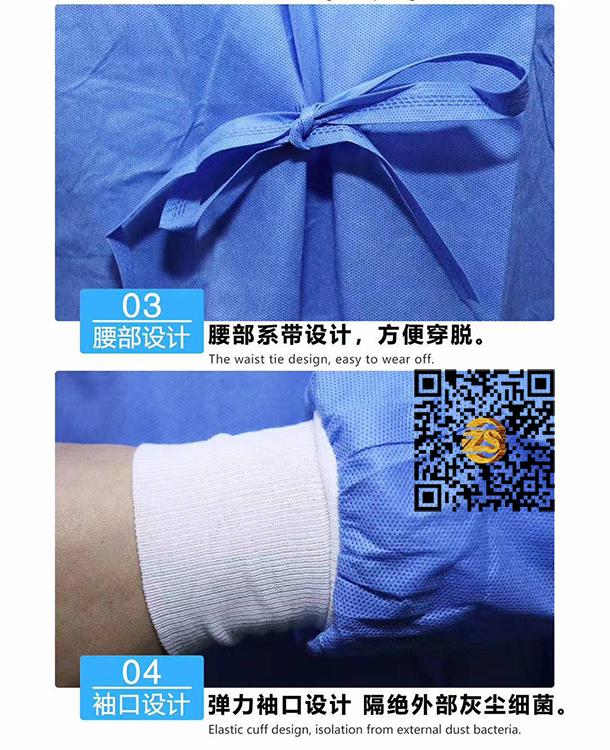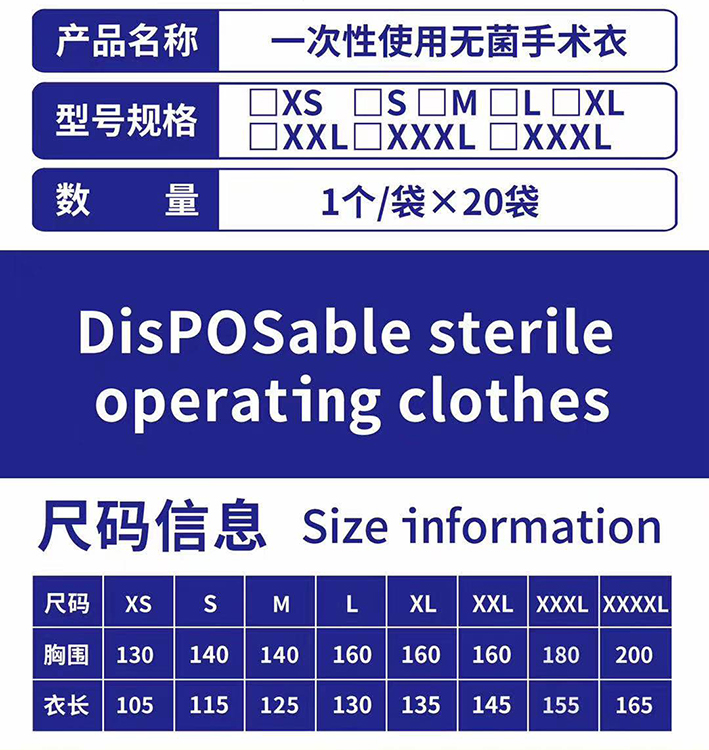 [Intended Use] It is used to protect the patient from infectious agents that are potentially spread by the healthcare professional.
[Usage] Wash hands and disinfect before dressing.Grasp the middle part of the top folded surgical gown with one hand, and take care not to contaminate the surgical gown below.Lift the two ends of the collar of the surgical gown with both hands, gently shake open the surgical gown.If there isabel t facing outward, throw the surgical gown up slightly, insert both hands into the sleeve at the sametime, and extend the hand forward.The itinerant nurse will assist in dressing at the back, so that both hands extend out of the cuff.Lean forward slightly to make the belt hang away from the surgical gown.Lift the left and right waistband with both hands, and hand it back slightly.The nurse wil take it from behind and fasten it.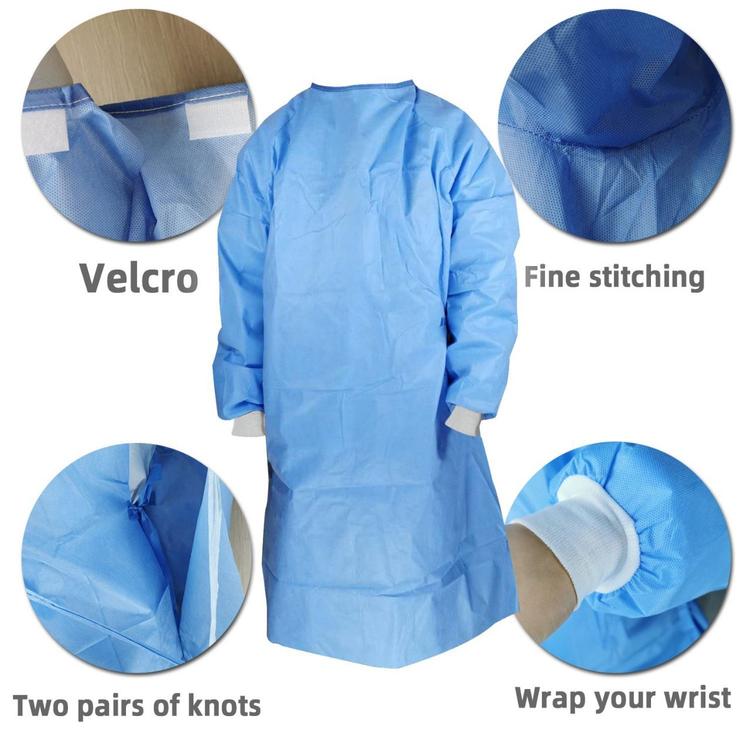 [Precautions]
1.Please read the instructions carefully before using the product, and check the
production batch number/production date on the seal.Overdue use is not allowed.
2.This product is only for one-time use.After use,it is destroyed,and repeated use is prohibited.
3.the packaging is damaged,it is strictly prohibited to use.
4.The product is sterilized by ethylene oxide, and the service period is two years from the date of ster lization.
5.the product should be used in accordance with local requirements,submitted to a qualified agency for processing.
6.The medical staff should choose the operating clothes according to their height.
7.The product should not be used for more than 12 hours.
8.this product is suitable for known patients without infectious virus in the blood of the operation.
[Sterilization Method] The product is sterilized with ethylene oxide gas.
[Shelf Life] 2 years after sterilization with ethylene oxide.
[Production Date] See packaging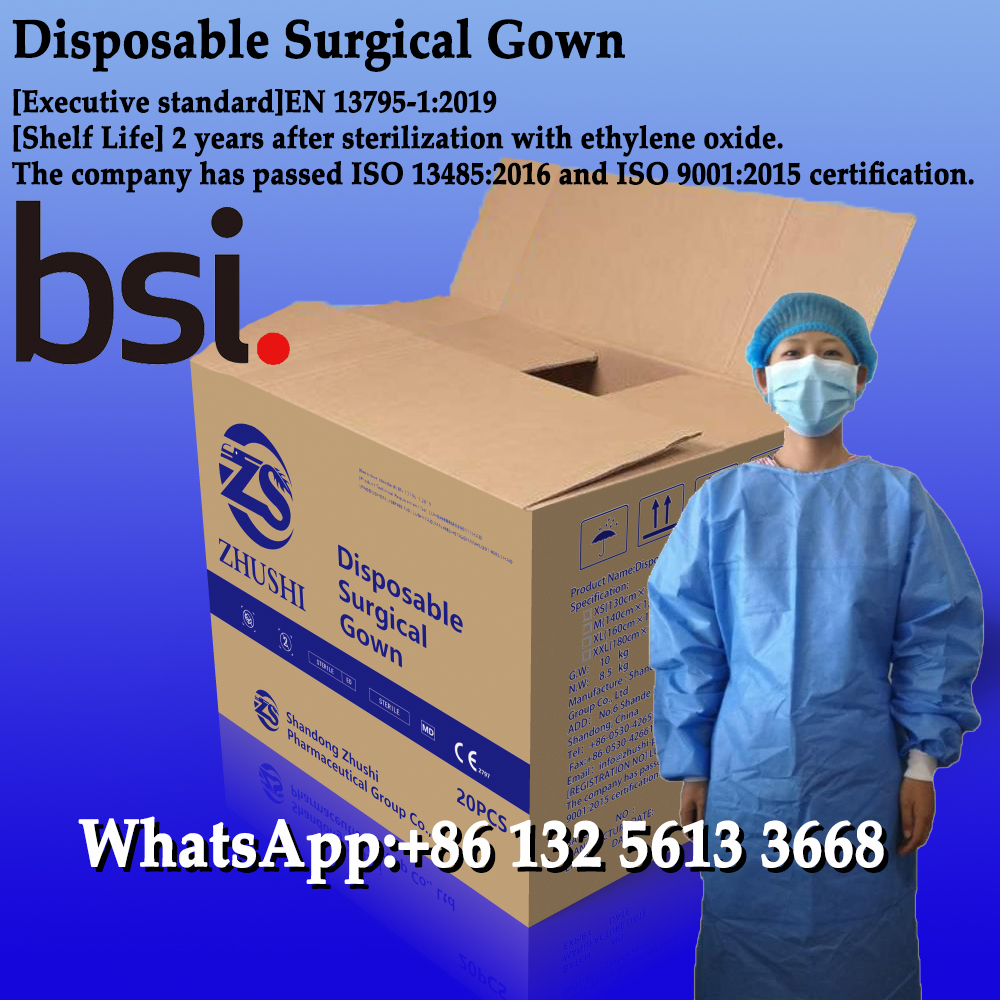 Add:No.6 Shande Road, Shan County, Heze City, Shandong, China
Tel:+86-13256133668
Email:958105582@qq.com
[REGISTRATION NO] LUXIEZHUZHUN 20202141354
[Product Technical Requirement No] LUHEXIEBEI20200171HAO
[PRODUCHON LICENSE NO] LU SHI YAO JIAN XIE SHENG CHAN XU 20140053HAO
The company has passed ISO 13485:2016 and ISO 9001:2015certification.
EC REP:MedNet EC-REP GmbH
Borkstrasse 10, 48163 Münster,Germany
CE certificate 欧盟ce证书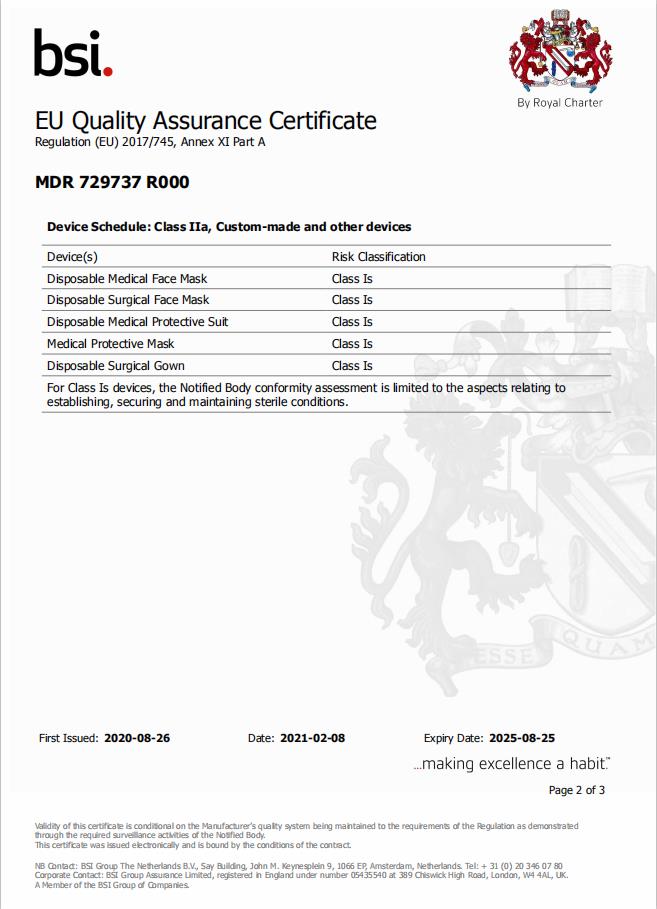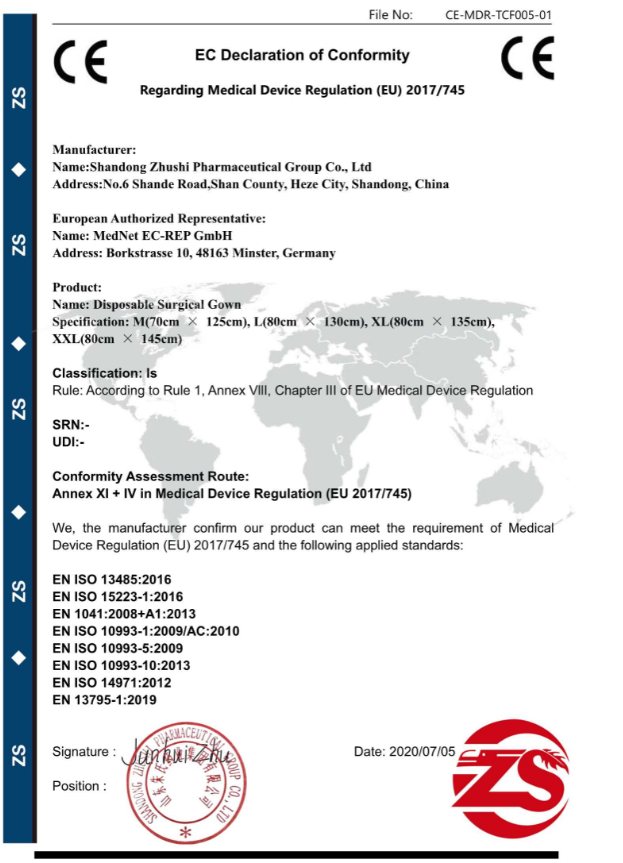 FDA 510K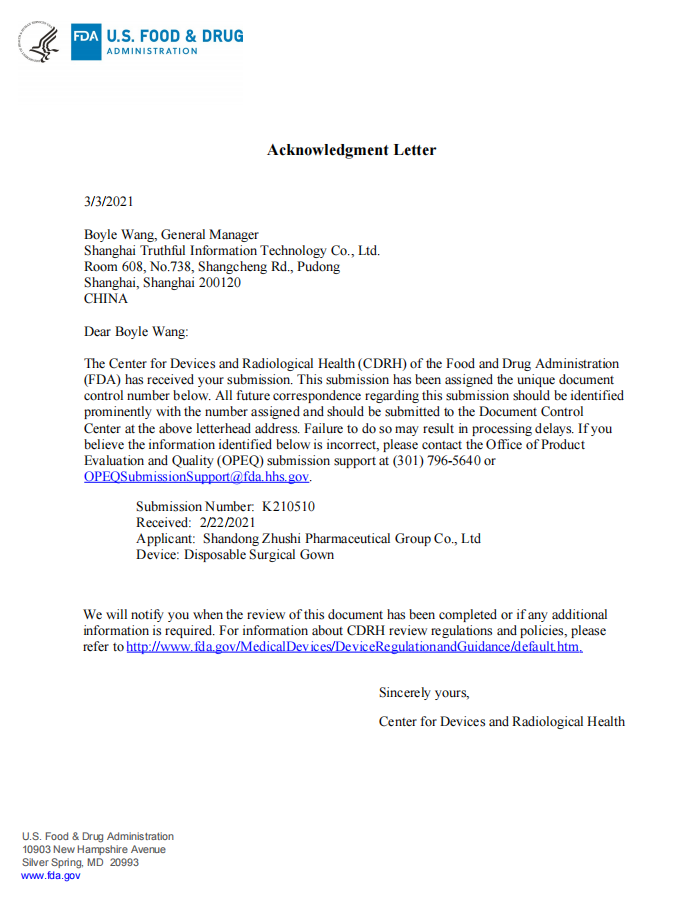 Australia TGA 澳大利亚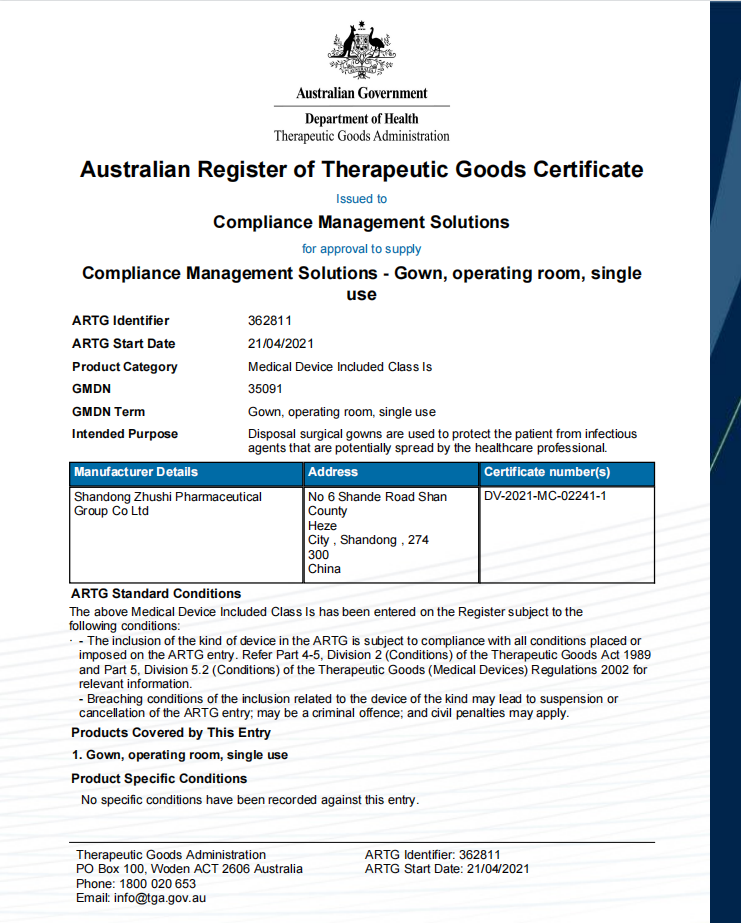 【产品名称】一次性使用无菌手术衣
【型号规格】 XS(130×105)、S(140×115)、M(140×125)、L(160×130)、XL(160×135)、XXL(160×145)、XXXL(180×155)、XXXXL(200×165)
| | | | |
| --- | --- | --- | --- |
| 序号 | 尺码 | 胸围 | 衣长 |
| 1 | XS | 130 | 105 |
| 2 | S | 140 | 115 |
| 3 | M | 140 | 125 |
| 4 | L | 160 | 130 |
| 5 | XL | 160 | 135 |
| 6 | XXL | 160 | 145 |
| 7 | XXXL | 180 | 155 |
| 8 | XXXXL | 200 | 165 |
【结构及组成】由SMS无纺布制成,由领口、衣身、衣袖、系带组成。背部为全开口,颈部、腰部有系带,袖口为涤纶材质弹性收口经缝制而成,其余为热合而成。产品为标准性能手术衣,以无菌形式提供。
【产品的性能】外观应整洁,无破损、色斑、污点及异物;微粒物质≤3.5IPM;落絮≤4.0Log10;抗渗水性≥20cm H2O;采用环氧乙烷灭菌,环氧乙烷残留量应≤10μg/g;产品尺寸允差±5%;无菌。
【适用范围】供手术人员穿着,降低感染源向病人手术创面传播以防止术后创面感染。
【禁忌症】对无纺布过敏者禁止使用。
【使用说明】打开包装,取出一次性使用无菌手术衣,展开后直接穿戴。然后,系好颈部和腰部系带;手术完毕后,首先解开颈部和腰部系带,然后脱下手术衣,放入医疗垃圾回收袋中。
【注意事项、警示以及提示的内容】
1、使用本产品前应认真阅读说明书,并查看封口处生产批号/生产日期,逾期不得使用。
2、本品仅供一次性使用,用后销毁,禁止重复使用。
3、包装破损,严禁使用。
4、本品经环氧乙烷灭菌,自灭菌日期之日起,使用期限为两年。
5、产品使用后应按照当地要求,交有资质机构进行处理。
6、医护人员根据表1选择符合自己的身高的手术衣。
7、产品使用时间不应超过12小时
8、本产品适用于已知病人血液中无传染性病毒的手术。
【标签、包装标识样图】
包装破损切勿使用 不得二次使用 经环氧乙烷灭菌 无菌
【运输及储存条件】本产品贮藏在无腐蚀性气体、干燥、避免日晒、通风条件良好、清洁的常温环境内;运输及搬运时应注意小心轻放。
【注册证编号】鲁械注准202021411354
【产品技术要求编号】鲁械注准202021411354
【生产许可证编号】鲁食药监械生产许20140053号
【注册人】山东朱氏药业集团有限公司
【住所】单县开发区樊楼路南
【联系方式】联系电话:13256133668
【售后服务单位】山东朱氏药业集团有限公司
【生产企业】山东朱氏药业集团有限公司
【生产地址】山东单县经济技术开发区食品药品产业园单德路6号
【联系方式】联系电话:13256133668
【生产日期】见包装
【有效期】2年(经加速老化试验获得)

Disposable sterile operating clothes;
Disposable Butterfly Blood Collection Needle;
Sterile Hypodermic Syringes with needle For Single Use;
Filtering half mask(EN149 FFP2);
Medical examination glove;
Disposable latex Examination gloves;
Disposable Vinyl Examination gloves;
Disposable Nitrile Examination gloves;
Medical protective mask;
Disposable medical face mask;
Disposable surgical face mask;
Disposable medical Protective Suit;
hand gel disinfectant;
75% alcoholic disinfectant;
Infrared thermometer;
Isolation gown;
Surgical gown;
Medical isolation mask;
Medical isolation eye mask;
Medical isolation shoes;
Medical isolation shoe cover;
Medical cap;
75% alcohol disinfectant;
Antibacterial hand sanitizer;
Disposable alcohol disinfectant wipes;
84 disinfectant;
Disposable virus sampling tube.
and so on.
WhatsApp:+86 13256133668